Fishing on The River Ruel
Words and Photography by Andrew Barker
"The Ruel really is a fishing hidden treasure – the loveliest river I have fished for years…"
…so said an experienced fisherman who within two hours of first fishing the Ruel through the Fishpal website had caught two seatrout of over two pounds.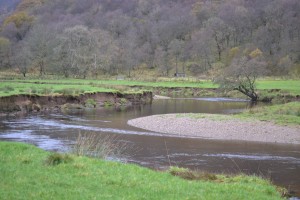 The 2013 season, which ended on 31st October, had started quietly with the unusually dry summer in Argyll, which lasted until well into August. This meant that salmon and seatrout which would normally start entering the river towards the end of June for the most part stayed in salt water until later than usual, but when the rain eventually arrived and river levels rose which a number of significant spates, fishing was very productive. The final returns from proprietors are not yet in, but I know of at least 10 salmon and over 80 seatrout/finnock having been caught during the season, notwithstanding the fact that the river was very lightly fished for much of the time. The vast majority of these fish were released to continue their journeys to the spawning grounds, and all were caught on a fly since local regulations do not allow spinning or any form of bait fishing. It was encouraging also that the average size of seatrout appears to be increasing with many excellent fish of over 2 lbs being recorded. Most of the salmon were in the 7-9lb range but one experienced [and reliable!] fisherman reported being 'broken' by much the largest fish he had ever hooked, so at least one monster will hopefully be spawning in the river this winter!
Work is in progress to continue the improvement to bankside access and there are plenty of stretches of the river unencumbered by trees where inexperienced fly fishermen can enjoy the pleasures of casting a fly without being caught in overhead branches!
For more information on arranging a fishing trip on the Ruel, contact our local water bailiffs, Andrew Barker [07500-661-238] and Colin MacDonald [01369-701-229], who are always ready to help and advise on fishing on the Ruel whenever possible. Expert professional casting tuition can also be arranged on The Ruel with Paul MacLean [07734-298-341].