In the middle of the 1600s civil wars broke out in Scotland brought on by religious differences and reinforced by fighting between powerful families seeking to extend their influence.  Though much of the fighting took place in the east of the country, the enmities between the McDonalds and the Campbell and Lamont families took devastation and war into Argyll and eventually to Cowal.
On the Cowal peninsula the Lamont families, whose land holdings included Couston and Trouston on Loch Striven, sided with the royalist McDonalds under the Marquis of Montrose and came into conflict with Campbell of Eilean Greig whose lands were situated to the east  of Loch Ridden and the Kyles Of Bute.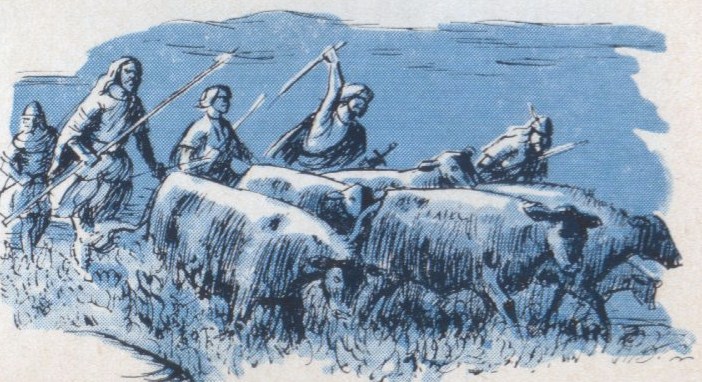 A group of Lamonts, crossing over Loch Striven, were raiding land belonging to the then small village of Glaic.  These villagers appealed to Duncan Campbell in his castle of Eilean Greig for help.
 "The Lamonts had their guns and swords with them.  They armed themselves, and the fight began.  The Campbells fired down from the upper ground on the     Lamonts, and the Lamonts fired up from the lower ground on the Campbells.  But, as the Campbells were behind the   mountain dike, which was pretty high, they were well protected from the fire of the Lamonts.  The fire of the Campbell therefore had a deadly effect…" 
"The Lamonts were at last obliged to fall towards their boats.  The first of them that reached the boats pushed them out, and left their friends and comrades to destruction.  Those of the latter that could swim threw away their swords and guns, leapt into the water and swam after the boats, expecting that those in the boats would take them on board.  But those who were in the boats paid no attention to any of them and being afraid of the bullets they allowed them to drown." 
The Lamonts continued to suffer:  "The war between the Campbells and the Lamonts did not stop at that.  The Campbells were far too powerful for the Lamonts.  They put up a gallows at the top of a rock,  above Eilean Greig at the side of Loch Ruel, on which they hanged many of the Lamonts and they threw their bodies from the rock into the loch"
'The Lamont Clan' H. Mckechnie