Irish pronunciation: [ˈdʲɛɾˠdʲɾʲə]) or Derdriu: "Deirdre of the Sorrows." Her story is part of the Ulster Cycle: stories of pre-Christian Ireland.
The legend

Deirdre was the daughter of the royal storyteller Fedlimid mac Daill. Her father served at the Court of Conchobar mac Nessa. Before she was born, Cathbad the chief druid, prophesied that Fedlimid's daughter would grow up to be very beautiful, but that kings and lords would go to war over her, much blood would be shed because of her. At her birth, King Conchobar, intrigued by the description of her future beauty, took Deirdre away from her family and had her brought up in seclusion by Leabharcham, an old woman. He planned to marry her when she was old enough.
One day as Deidre was out hunting in the woods, she came across a young man with hair the color of the raven, skin as white as snow, and lips as red as blood. His name was Naoise, son of Uisnech, a handsome young warrior, hunter and singer at Conchobar's court. The pair fell in love and defying the King they fled accompanied by Naoise's brothers Ardan and Ainnle to Scotland. There they forged a new life, walking the breadth of Argyll, making a home and living a happy life there, hunting and fishing and living in beautiful places, like Loch Etive. And Glendaruel.
Their happy life was disturbed when a messenger arrived from King Conchobar. Fergus mac Róich, with an invitation to return to Ireland and Fergus's own promise of safe conduct home, distrustful Deidre wanted to stay in Argyll, but the men of her Clan were keen to go home and so eventually they left.
Disaster befell them, Conchobar, humiliated and furious, engineered a brutal battle and the death of Naoise, in desperation Deidre took her own life.
Glenmasan manuscript
The Glenmasan manuscript is a 15th-century Scottish vellum manuscript in the National Library of Scotland, Edinburgh, where it is catalogued as Adv. MS 72.2.3. It was previously held in the Advocates Library, Edinburgh, where it was classified as MS 53. The compilation contains Scottish Gaelic literary texts dealing with matter of the Ulster Cycle, such as the Táin Bó Flidhais and Oided mac nUisnig (the latter a version of Longes mac n-Uislenn).
The manuscript takes its name from an entry on the front leaf, which appears to state that the original compilation was completed at Glenmasan in 1238. This document as translated contains a poetical account of Deidre's life in Argyll, with a specific reference to Glendaruel;
The earliest history of the manuscript is unknown, however at the bottom of folio 9 occurs the name 'Robert Campbell at Glensluan' (Argyll), who has been identified as a forester in Cowal and a poet, who composed an ode to congratulate Edward Lhuyd on his Archæologia Britannica 1707. William Campbell, Robert's great-nephew was the minister of Kilchrenan (1745) is named on folio 15 as being the one-time owner of the book. In 1782 James McIntyre of Glenoe is recorded as owner.
In the late 18th century, Rev. John MacKinnon of Glendaruel stated he had been handed the manuscript by a 'local countrymen', who told him that it was originally kept in the Kilbride Collection. The manuscript was then passed it on to the Highland Society.
.
A transcript was first made by Ewen Maclachlan (1773–1822) in his Leabhar Caol ("Narrow Book") and a second by Donald MacKinnon, who published a diplomatic edition in the first four volumes of The Celtic Review (1904–1908).
Extract from the Glenmasan Manuscript – 'The lay (song) of Deidre' Translation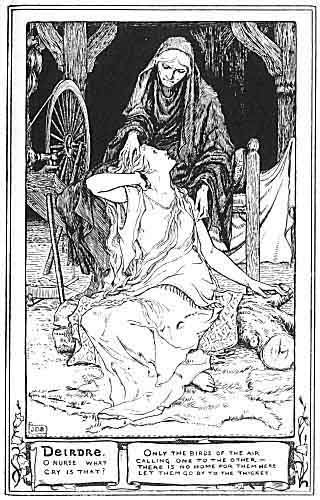 "My love to thee, yonder land land in the east,"
"and sad it is for me to leave the sides of thy bays and harbours,
and of thy smooth-flowered, lovely meadows,
and of thy green-sided delightful knolls.
And little did we need to do so. "
A land dear (to me) is you land in the east,
Alba with (its) wonders,
I would not have come hither out of it
Were I not coming with Naisi.
Dear are Dun-fidhga and Dun-finn;
Dear is the Dun above them;
Dear is Inis Draigen, also;
And dear is Dun Suibhne.
Caill Cuan !
To which Ainnle used to resort, alas!
Short I deemed the time
With Naisi on the coast of Alba.
Glen Laidh !
I used to sleep under a lovely rock ;
Fish and venison and fat of badger ;
That was my food in Glen Laidh.
Glen Masain !
Tall its sorrel, white its tufts;
We used to have unsteady sleep
Above the shaggy Inver of Masain
Glen Etive !
There I built my first house:
Lovely its woods after rising
(A cattlefold of the sun is Glen Etive).
Glen Urchain ! (Glenorchy)
It was the straight, fair-ridged glen :
Not more gallant was a man of his age
Than Naisi in Glen Urchain !
Glen Daruadh (Glendaruel)
Dear to me each of its native men ;
Sweet the cuckoo's note on bending bough,
On the peak above Glen Daruadh.
Dear (to me) is Draigen with its great beach ;
Dear its water in pure sand :
I would not have come out of it from the east,
Were I not coming with my beloved.
Gaelic
Do dech Deardir ar a heise ar crichibh Alban, agus ro chan an Laoidh :-
Inmain tir in tir ud thoir
Alba cona lingantaibh
Nocha ticfuinn eisdi ille
Mana tisain le Naise.
Inmain Dun Fidhgha is Dun Finn
Inmain in Dun os a cinn
Inmain Inis Draignde
Is inmain Dun Suibnei.
Caill cuan gar tigeadh Ainnle mo nuar
Fagair lim ab bitan
Is Naise an oirear Alban.
Glend Laidh do chollain fan mboirmin caoimh
Iasg is sieng is saill bruich
Fa hi mo chuid an Glend laigh.
Glend masain ard a crimh geal a gasain
Do nimais colladh corrach
Os Inbhar mungach Masain.
Glend Eitchi ann do togbhus mo ched tigh
Alaind a fidh iar neirghe
Buaile grene Ghlind eitchi
Mo chen Glend Urchaidh
Ba hedh in Glend direach dromchain
Uallcha feara aoisi ma Naise
An Glend Urchaidh.
Glend da ruadh
Mo chen gach fear da na dual
Is binn guth cuach
Ar craeib chruim
Ar in mbinn os Glenndaruadh
Inmain Draighen is tren traigh
Inmain Auichd in ghainimh glain
Nocha ticfuin eisde anoir
Mana tisuinn lem Inmain.